Best Valencia Restaurants

There are over 1,500 restaurants in the city of Valencia so you are definitely going to enjoy dining in Valencia.
Best Valencia Restaurants

Refugio Restaurante in El Carmen
Calle Alta, 42
46003 Valencia / Cuisine – Mediterranean
Restaurante del Carmen is located in the trendy area of Barrio del Carmen.  Known for its seasonal cooking with high quality ingredients, careful presentation, friendly and informal service and its excellent value for money.
---
Best Valencia Restaurants
Kaymus
Avinguda del Mestre Rodrigo, 44
46015 Valencia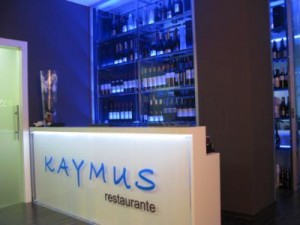 One of the best restaurants is located close to the Palacio de Congresos in the newly developed business district in the city of Valencia.
Owner Nacho Romero offers diners first class ingredients with a homemade style, featuring paellas and creamy rice dishes and roasted meats.
---
Best Valencia Restaurants
L'Antina
Juan Llorens 31
Mediterranean Cuisine
L'antina was conceived from an idea to offer food with a difference. Combining two areas for eating in a single location, with a modern and contemporary décor and strong emphasis on detail.
---
Best Valencia Restaurants
Calle Ciscar 58
46005  (Canovas)
Specialises in traditional cooking from the Spanish region of Galicia. Cuisine is informal and slow-paced and deeply rooted in tradition.
Prices are very reasonable, making La Cocina Gallega one of the best choices.
---
Best Valencia Restaurants
La Cepa Vieja
Calle San Vicente, 209
46007

Cuisine – Mediterranean
La Cepa Vieja is devoted to wine and gastronomy, matching food and wine and specialises in serving wines by the glass.
A modern style restaurant surrounded by pictures, poems and vinyls providing a friendly atmosphere.
Best Valencia Restaurants
Sargantana Restaurant
Llano de Zaidia 16
46009
Cuisine – Spanish
Sargantana Restaurant is located on the left side of Turia Gardens.
With only 11 tables, this intimate restaurant can ensure a personal service, whilst demonstrating a true love for gastronomy.
---
Best Valencia Restaurants
El Llagar del Abuelo Valencia
Calle Burriana, 47
46005
Cuisine – Asturian
El Llagar del Abuelo is a traditional Asturian restaurant situated near the Turia Gardens.
Close to all major attractions such as the Palau de la Música and the City of Arts and Sciences.
---
Best Valencia Restaurants
Sahara
Calle Mar, 52
46003
Cuisine – Arabian
A setting from 1001 Arabian nights offering mainly Moroccan food with Lebanese, Syrian and Saudi influences resulting in the best Arabic dishes.
The menu is divided into hot and cold starters, soups, salads, meats, fish, couscous and dessert.
All with their Arabic names and clear explanations making this a great choice for best Valencia restaurants.
---
Best Valencia Restaurants
A Tu Gusto
Escritor Rafael Ferreres esq ~ Avenida Obrero
46013
A versatile restaurant just a stone's throw from the spectacular City of Arts and Sciences.
Decorated in shades of pistachio green, black and magenta, this light and airy restaurant has high ceilings and large windows.
The cheerful dining room has a minimalist feel, complemented by fresh flowers on the tables.
---
Best Valencia Restaurants
Galbis
Avda. Antonio Almela, 15,
L'Alcudia, 46250
Cuisine – Spanish
Galbis is  30 km away from the city on the Valencia-Albacete motorway.
Famous for its giant paellas that travel the globe, Galbis is listed in the Guinness Book of Records for its October 2001 'paella valenciana'.
---
Best Valencia Restaurants
La Lola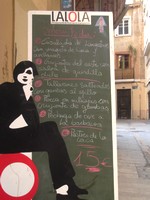 Calle Subida Toledà 8
Tel: 34 96 391 8045
La Lola is a Valencia restaurant which is situated in a tiny little passage, close to the Cathedral of Valencia and just off Plaza de la Reina.
If you feel like something a bit upmarket then this is the place to go. There's also a lunch time menu for 15 euros – Reservations are required.
---
Best Valencia Restaurants
La Fonda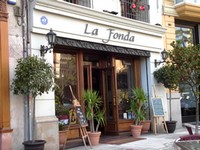 Plaza de la Reina
On a warm summers evening there's nothing better than enjoying a delicious meal on the terrace with views of El Miguelette and the Cathedral.
---
Civera Centro
Very popular fish and seafood restaurant
There are two branches of this popular seafood restaurant:
C/ Lérida, 11 and 13, 46009 VALENCIA
Tel: 963 475 917
Bar: 11:00 – 13:00
Dining:13:00 – 16:00 and 20:00 – 24:00
C/ Mossen Femades,10 46009 VALENCIA
Tel: 963 529764
Hours: Open every day
From 13:00 – 16:00 and 20:00 – 24:00
---
El Romeral
Popular restaurant in the L'Eixample district of town.
Metro: ColónGran Via Marques del Turia, 62
46005
---
Restaurant Submarino De L'Oceanografic
This beautiful circular restaurant has a horse-shoe shaped bar in the center and marine life in the underwater tanks which surround the restaurant.
---
Best Valencia Restaurants by the Beach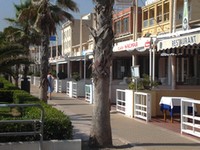 A selection of lovely restaurants line the promenade of Las Arenas beach which are amongst the best restaurants.  As well as being very well established, they are famous for their fresh seafood and paella dishes.
 La Pepica is one of the best restaurants for paella along the Paseo Neptuno overlooking the beach,  Hemingway and many other well-known people have eaten here.
Paseo Neptuno, 2
Tel: 96 371 0366
Other excellent restaurants nearby:
La Marcelina at Paseo de Neptuno, 8… Tel: 963 71 20 25
Sol i Lluna at Calle del Mar, 29… Tel: 962 92 22 16
La Perla at Av. Neptuno, 24… Tel: 963 71 77 67
Whilst you're here, don't forget to pop into La Lonja del Pescado Frito at Calle Eugenia Viñes, 243… Tel: 963 55 35 35.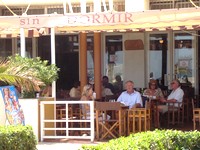 There's nothing more enjoyable than relaxing on the terrace of one of these lovely little restaurants.
Not only is the food excellent but you also have a fantastic view of the sparkling Mediterranean sea.
Sin Domir (without sleep) – As the name suggests this is a cafe/bar located on Las Arenas which stays open all night.
We hope you enjoy this selection of the best restaurants. If you know of any we have missed just let us know.
Restaurant Reviews
Restaurants in Valencia
Traditional Spanish Food