National Day of the Region of Valencia & Sant Donis Day (Patron Saint of Lovers)
History of National Day of the Region of Valencia >>
Sant Dionísio Day >>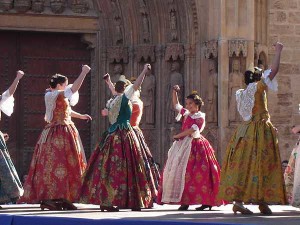 The National Day of the region of Valencia also coincides with Sant Donis (Sant Dionís Day / St Denis) the patron saint of lovers.

Sant Donis Day ~  Lover's Day in Valencia (Día de la Mocadorà)


This is a very romantic day in Valencia similar to St Valentines Day but instead of giving chocolates,  handkerchiefs (mocador) are filled with tiny marzipan shapes of fruits and veggies and given to the one you love.
Día de la Mocadorà – The tradition dates back to the eighteenth century and Día de la Mocadorà  is now the name of the festival.
---
National Day of the Region of Valencia ~ Timetable of Events
8 October
10:00 am – València, amb la Senyera. Exhibition of the Real Senyera (Royal Ensign) in the City Hall's Crystal Room until 22:00.
07:00 pm –  Concert by the Valencia Orchestra in the Palau de la Música.
07:30 pm –  Valencian Festival of Dance, Music and Song in the Plaza del Ayuntamiento, followed by Popular Dance.
11:55 pm –  Fireworks Festival in the Turia Gardens, organized by the Provincial Council of Valencia in cooperation with Valencia City Council.
9 October
12:00 pm  – Civic procession and a flower tribute next to the statue of King James I of Aragon. There will then be a firework display at the end of the civic procession.
5:00 pm – The City of Valencia Entrance Parade of the Moors and the Christians. Route: Glorieta Paz, Calle San Vicente, Plaza del Ayuntamiento followed by the Avenida del Marqués de Sotelo where it ends.
---
History of the National Day of Valencia
King Jaime 1 conquered the Moors and officially entered the city of Valencia on 9 October 1238.
King Jaime 1,  fulfilled the task his father Peter 11 of Aragon had begun further north in Aragon and  retook the lands to the south of Aragon which the Moors had occupied since the 13 century. The Moors surrendered and King Jaime 1 officially entered the city of Valencia on 9 October 1238.
Senyera – Señera

Every 9 October the senyera is lowered from the Town Hall balcony in Town Hall Square (Plaza del Ayuntamiento) and paraded through the streets of Valencia.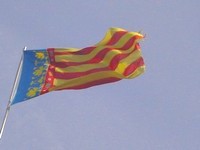 The senyera consists of 4 red stripes on a yellow background and is the insignia of Aragon.
It has a blue band running down the side bearing the royal crown.
Valencia Accommodation
Valencia Travel