TOP Valencia Events December 2017
Valencia Events December 2017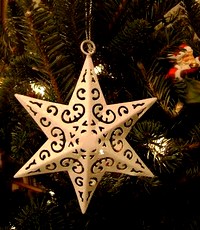 Christmas in Valencia – Plaza del Ayuntamiento  (Town Hall Square) 
1 December 2017 – 6 January 2018
Every year Plaza del Ayuntamiento hosts the Christmas celebrations in Valencia with a huge Christmas tree, open air ice rink and a French inspired 18th century carousel.
The Christmas market of València also opens on Friday  1 December  in La Lonja with toys, candles, crafts, ornaments and Christmas gifts – from 9:00 a.m. to 10:00 p.m.  Note: Christmas Eve closes at 2:00 p.m and the night of the Reyes at 5:00 p.m.
VALENCIA EVENTS DECEMBER 2017
Skating in Valencia Christmas 2017
As in many  other cities during the Christmas period, Valencia hosts many ice skating rinks.  The main rink s are located in Plaza del Ayuntamiento, the Nuevo Centro Shopping Center (near the Expo Hotel),  the City of Arts and Sciences, and the rink near Bonaire.
---
VALENCIA EVENTS DECEMBER 2017
Restaurants in Valencia ~ A Christmas à la carte
VLC Cuina Oberta

Some restaurant selections offer special Christmas menus where they highlight the best of their offer at a closed price between 25 and 90 euro.
Check here the selection of restaurants and make your reservation.

---
Feria de Navidad ~ Valencia Fun Fair

1 December 2017 – 22 January 2018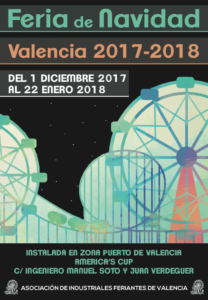 The fair is situated between Avenida de Francia and Calle Ingeniero Manuel Soto, very close to the Edificio del Reloj and the Juan Carlos I Royal Marina.
Location: Avenida del Puerto 330
46024 Valencia
Price: no entry fee; you pay per attraction
Number 2, 3 and 30 bus or routes 4 and 19 which go via Plaza del Ayuntamiento.
Find out more ~ Feria de Navidad
---
VALENCIA EVENTS DECEMBER 2017
NAVIDAD 2017 -2018  at MARINA REAL JUAN CARLOS I
16 – 31 December 2017
Traditional Christmas market / Ice Rink / Activities and workshops for children / The Winter night in the Hemisfèric / – Special performances with bands and traditional groups / Awards contest drawing
Venue: MARINA REAL JUAN CARLOS I
Offices Dársena Deportiva Norte- Marina Real Juan Carlos I 46011 Valencia – Spain
Tel: +34 963 812 009 Fax: 963 814 450 www.marinarealjuancarlosi.com
---
VALENCIA EVENTS DECEMBER 2017
GRAN CIRCO WONDERLAND NEW SHOW 2017
AVDA. PIO BAROJA 3, (in front of Bioparc) 46015 VALENCIA

Every year with a different show, synonymous with good show the Wonderland has managed to be a reference for the Valencian public at Christmas.
The circus is held under huge tents of more than 5000 square meters of infrastructures with 250,000 watts of lights, effects and robotics, more than 20,000 watts of sound, a capacity of more than 1500 locations that offer a perfect visibility, room Waiting for 1,500 people and with its POWERFUL HEATING.
Children under 2 years old do not pay entrance fee.
---
VALENCIA EVENTS DECEMBER 2017
Circo Raluy Legacy
1 December 2017 – 28 January 2018
For the first time in Valencia, the circus is a show combining traditional theater with new innovations.
Location: (Marina) Sc Puerto 10
Address: Consorci València 2007 . Valencia, Moll de la Duana, s / n, 46024 Valencia, Spain
Phone: +34 609 32 93 43
Find out more website
---
VALENCIA EVENTS DECEMBER 2017
CIRCLE GRAN FELE
23 – 31 December 2017
Rambleta espai d'art i experiències – Bulevar Sur corner C / de Pío IX Sant Marcel·li neighborhood 46017 Valencia Telephone + 34 960 011 511
info@larambleta.com www.larambleta.com
We have our own EMT Bus Parking: lines 9, 10, 182 and N6 Metrorbital: lines 1 and 2 Metro (FGV): lines 1 and 5 (Patraix Stop or Safranar Stop)
Venue: THE RAMBLETA
---
VALENCIA EVENTS DECEMBER 2017
SPECIAL PROGRAMMING: A CHRISTMAS FULL OF STORIES
26 – 29 December 2017
Where:  MUSEU DE PREHISTÒRIA I D'HISTÒRIA ANTIGA LA BENEFICÈNCIA
Corona, 36
Hours: Tuesday to Sunday, from 10:00 a.m. to 8:30 p.m. Tel. Inf. 963 883 565 Tel. Concertación de visitas: 963 883 579
---
VALENCIA EVENTS DECEMBER 2017
Expojove 2017-2018
26 December 2017 – 4 January 2018
Feria Valencia welcomes Expojove – this year it will be  celebrated under the slogan "Nyam!" and will run from 11:00 a.m. to 8:00 p.m.  The traditional Christmas Fair which has been held every year for more than a century sells articles for children, painted nativity figures, toy drums, tambourines and maracas.
A  large funfair with tombolas and stalls selling typical sweets and  Christmas competitions organized at the Nuevo Centro shopping center.
Find out more Things to do at Christmas in Valencia
---
VALENCIA EVENTS DECEMBER 2017
Pop-Rock: "REMEMBER QUEEN"
27 December 2017
From 9.00pm  / Price: 15€
Venue:
PALAU DE LA MÚSICA I CONGRESSOS (Sala Iturbi)
Paseo Alameda, 30
Tel. 963 375 020
---
New Year's Eve in Valencia


Bring in the new year with a show of light and music, the twelve bells and grapes, and a fireworks display .  From 22:45 until 1:30 in the morning.

---
Where To Stay in Valencia ?

You can find many lovely hotels, apartments and villas by using this link to Booking.com.
Feliz Navidad! – Happy Christmas!
Valencia Town Center
Valencia Attractions
Turia Gardens
Valencia Restaurants
Valencia Events
Cheap Flights To Valencia
Valencia Accommodation
Valencia Events