TOP Valencia Events October 2017
Valencia Events October 2017
IV Gastronomic Days of Arroces Marineros

30 September – 15 October


Many  restaurants in the Playa de las Arenas are offering special menus from 30 September – 15 October. Dishes include the traditional Valencian paella, arroz a banda, arroz del senyoret and different kinds of rice broth. Prices ranging from 18 to 38 euros.
---
Valencia Events October 2017
Festival ~ 9 October 2017

National Day & St. Dyonisius Day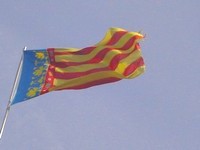 The 9 October is the National Day of the autonomous region of Valencia and also San Donís Day (Valencian)  St. Dyonisius (Spanish). Also known as Día de la Mocadorà (the day of the handkerchief) as they are filled with tiny marzipan shapes and given to the one you love.
---
Valencia Events October 2017
NATIONAL DAY OF SPAIN (Festa Nacional d'Espanya in Catalan and Valencian)

12 October

Fiesta Nacional de España is a public holiday and commemorates the anniversary of Christopher Columbus landing in the New World on 12 October 1492.
Event : STREETS OF VALENCIA
---
Valencia Events October 2017
Concierto: "FSO TOUR 2017" / La millor Música de Cine en Concert
Constantino Martínez Orts, director
28 October
Time: 19,30 hours / Price: 30 €
Venue: PALAU DE LA MÚSICA I CONGRESSOS (Sala Iturbi)
Paseo Alameda, 30
Tel. 963 375 020
---
Valencia Cuina Oberta returns for 10 days
From 19 to 29 October 2017
Autumn is here and with it one of the most gastronomic events of the year, now in its 17th edition. Held every year  in spring and  in autumn this is when some of the most attractive restaurants in the city offer tasting menus at special prices.
---
Halloween in Valencia
31 October 2017
Many restaurants have theme events for Halloween and supermarkets are stocked with halloween goodies and pumpkins.