Valencia July Fair (Feria de Julio) 2017

Valencia July Fair Events
The Turia Gardens and  Viveros Gardens (Jardins de Viveros) are the location of events and concerts during the festival.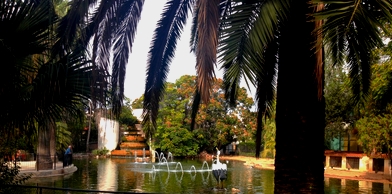 Open air cinema, sporting events and firework displays are held in the gardens and on the sandy beaches  around the port area of Valencia.
The Valencia July Fair is full of music, shows and concerts for all ages. 
Concerts in the Viveros Gardens
Those appearing include UB40 on 19 July, Jamie Cullum on 24 July  and the popular Spanish group  LA OREJA DE VAN GOGH on 12 July.
Find out more ~ Concerts in the Viveros Gardens
---
Originally a flower and produce fair devised in 1871
It has now become the most popular fair enjoyed by all.  Entertainment ranges from ballet to rock and jazz plus folk music with traditional dances such as the zarzuela.
FIREWORKS
The Royal Marina will be the stage for the firework displays that will kick off every Saturday at midnight.
Starting at midnight, the firework displays will fill Valencia's seafront with light and colour. Venue: Marina Real Juan Carlos I
This is a wonderful time to visit Valencia for all the family.
Valencia July Fair in the Turia Gardens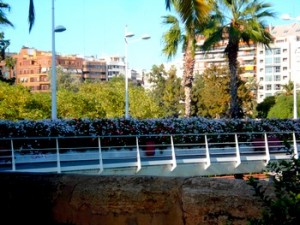 You can see the annual funfair and Ferris wheel in the Turia Gardens between Puente de las Flores (Bridge of Flowers) and Puente de la Exposición (Exposicion/Calatrava Bridge).
Valencia July Fair
The Big Night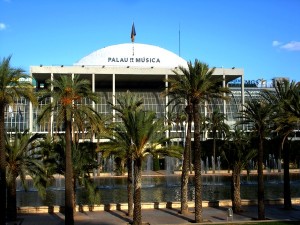 On the Big Night there are musical performances on more than 30 stages all over the city.  With paella on offer all over town and museums open till the wee small hours.
Most will take place between 20.00 and 00.30 hours.
Jazz Festival
The lovely Palau de la Música will be hosting the Jazz Festival with traditional Jam Sessions and free concerts in the gardens of the Palau in the Turia Gardens.
Valencia July Fair
The Battle of Flowers ~ Paseo de la Alameda

The fair finishes with beautiful floats along the Paseo de la Alameda. Flowers are thrown at passers by and the street becomes a blanket of beautiful flowers.
The magic of this beautiful city is enjoyed by all during the Valencia July Fair.  Late night parties are held in the warm summer evenings on the beaches of Valencia and  the traditional firework displays are held in the Turia Gardens (Jardines del Turia) throughout the festival.
Where To Stay for the Valencia July Fair?

You can find hotels and apartments in Valencia and the surrounding areas by using this link to Booking.com. Book online and pay when you get here.
Enjoy the lovely city of Valencia!