Transport in Valencia Spain
Transport in Valencia is modern, clean and easy to use and it's also a great place to ride a bike.
Valencia Buses
Valencia Metro
Valencia Trains
Travel cards  include combined tickets  for the bus and metro.
Transport in Valencia
Valencia Metro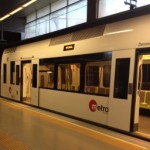 The metro is modern, reliable, very easy to use and the quickets way to get around town.
Lines 3 and 5 connect the city to the airport and it's the quickest way into town.
The  tram  L4  links the north of Valencia to the beach.
Transport in Valencia
Valencia Tram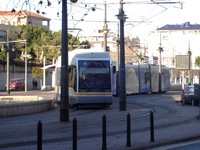 Line 4 is an overhead tram which connects the city of Valencia to the beach.
It's a great alternative to the bus or using a car as it's fun and there are no traffic jams.
---
Transport in Valencia
Valencia Trains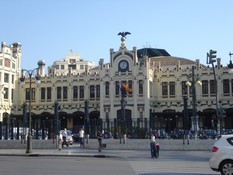 The Northern station Estaciòn del Norte is incredibly beautiful and an example of the  modernist architecture in Valencia.
It's easy to travel  from Valencia by  train to any of the other major cities and towns of Spain as it's  affordable and comfortable.
---
Transport in Valencia
Valencia Buses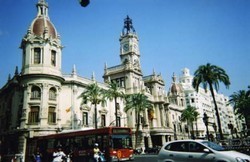 The Central Bus Station is at Avenida Menéndez Pidal, 13 (46009) which is just around the corner from the Expo Hotel and opposite the Turia Metro Station and Turia Gardens.
The transport is excellent in Valencia and with the red Valencia city EMT buses there are 91 lines by day and 7 by night.
---
Transport in Valencia
Valencia Tourist Bus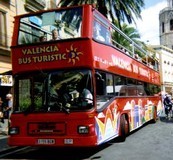 Get to know Valencia on the top of a tour bus. See all the sights and attractions of the city and find out where everything is located.  You can also take a tour of the waterfront and see the beaches of Valencia.
Great for taking those holiday snaps!
---
Transport in Valencia
Valencia Bikes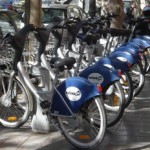 Valencia is a very bicycle friendly city and many tourists enjoy using this form of transport to get around.
In fact everywhere you go you will see bicycle lanes. There are specific lanes for you to ride on, exactly the same as in the neighboring city of Barcelona. There are bicycle lanes along the main highways,  by the beach and also in the park.
---
Transport in Valencia
Valencia Taxis
Transport in Valencia is good and taxis are also a great way to get around and quite inexpensive.
There are many taxi ranks in Plaza del Ayuntamiento and by Estacion de Norte.
---
Transport in Valencia
Car Hire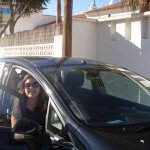 If your hotel doesn't have a car park there are many underground car parks in the city but they can work out quite expensive. You can hire a car online and collect it at the airport when you arrive.
You'll also need a good street map of Valencia for getting around so you get to know the districts of Valencia before you arrive.
---
Transport in Valencia
Valencia Airport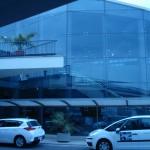 The Bus Aeropeurto (airport bus) will take you to the city of Valencia.  There are also buses from the airport which travel to Gandia and the surrounding areas.
From Estacion del Norte in the city center you can take trains which connect to all the cities and towns of Spain.  It's very easy to get a bargain flight to Valencia with many of the popular 'no-frills' budget airlines Easy Jet.
You can also take an internal flight from Valencia Airport and visit some of the amazing other cities in Spain or the nearby Balearic Islands.
Although transport in Valencia is very good, you can also use private transfers to reach your destination.
You will be met at Valencia airport and travel to your accommoodation.
Transfer services are available 24 hours a day, 7 days a week.
This private transfer service will take you from Valencia Port or Railway Station, directly to your hotel, without the hassle of picking up a rental car.
---
Transport in Valencia
Ferry to Valencia

You  can also take the ferry from the Port in Valencia to the Balearic Islands and visit the stunning islands of Ibiza, Menorca and Majorca. You can also take a ferry to the Canary Islands, Tunisia, Morocco, France, Italy and Malta.
Travel Cards
Valencia Map
Valencia Accommodation