Estacion del Norte (Valencia Nord)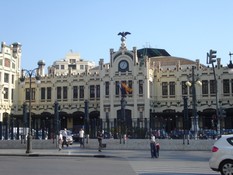 Estación del Norte (North Station) is the main line RENFE train station in Valencia.
This is where  the local train network (cercanías) leave to go to Gandía, Mogente, Utiel, Xirivella, Caudiel and Castellón de la Plana.
For Valencia High Speed Trains (AVE) go to Joaquin Sorrola Station just a short walk away.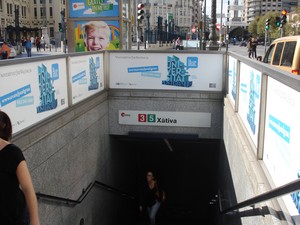 Opposite Estación del Norte is Xativa Metro, where Line 3 (red) and Line 5 (green) arrive from the Valencia Airport –    (see Valencia Metro).
Estacion del Norte  is housed in a beautiful  modernist building which opened in 1917.  A masterpiece of modernist architecture, designed by Demetrio Ribes,  the façade  and interior overflow with ceramics made of fruits and flowers represent the fertile land of Valencia.
Even if you don't use the train this is definitely a must to visit when in Valencia.
Estación del Norte is situated next to the Bullring, opposite Xàtiva metro station, surrounded by shops and restaurants.   A few minutes walk takes you to the upmarket shopping area of Calle Colon and  Plaza del Ayuntamiento (Town Hall Square).
Places To Eat : The station has shops and various places to buy a snack. On platform 6 is the Cafeteria/ Cerveceria where you can also buy a meal.
Station Hours:  Monday to Saturday: 03.45 to 23.55 – Sunday: 06.00 to 23.55
Customer Service:  Monday to Saturday: 03.45 to 23.55 – Sunday: 06.00 to 23.55
Station Information: 902 432 343
Ticket information: 902 240 505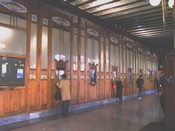 Train tickets can be bought in the lobby area where the information office is also located.
For long distance trains use booth No 9 which is the glass covered room at the front of the station.
Address :  XÀTIVA, 24
46007 Valencia
Hotels Near Estacion del Norte
Many hotels are just a few minutes walk from Estacion del Norte and Xátiva metro station.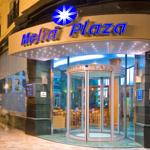 The Melia Plaza Hotel is in a great location overlooking Plaza del Ayuntamiento and the Vincci Lys hotel is in a pedestrianized area of the old town just 300 meters from Estacion del Norte.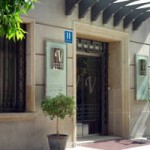 There are many lovely hotels in the old town and most are easy to reach from Estacion del Norte.
Train Travel In Spain
High Speed Train from Valencia to Madrid