Train Travel in Spain to Valencia
Train travel in Spain is a great experience and although it's not as fast as flying, it's a wonderful way to get to see France and Spain.
London – Paris – France – Barcelona – Valencia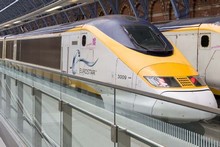 Travel By Train To Valencia  –  Travel from London by train in 10 – 11 hours
Just book Eurostar tickets from St Pancras in London to Paris.  The  train takes  2 hours 15 minutes, you then take the TGV Duplex double-decker high-speed train from Paris Gare de Lyon to Figueres, Girona and to Barcelona.
The TGV trains leave from Paris two or more times a day depending on the season (more during the summer months).
These high speed trains speed through the French countryside only stopping at a few stations along the way such as Figueres, Girona, Perpignan and Montpellier.
You can take the early afternoon train from Paris and  in 6 hr 25mins  hours you are in Barcelona Sants station.  Book early to get cheap tickets.
---
Train Travel In Spain ~ From Barcelona To Valencia
When you reach Barcelona take the high speed train from Barcelona Sants station. The journey takes just over 3 hours and costs about 50 euros. The slower train takes much longer and is cheaper.
The Spanish train company RENFE run nine daily AVE trains from Barcelona to Girona and Figueres. Jurney times are 39 mins and 55mins respectively.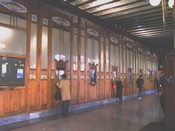 It really does help to know a few words in Spanish when buying tickets.  For example the word for tickets in Spanish is billetes (pronounced beyetes).  A one way ticket in Spanish is de ida solo and a return ticket is de ida y vuelta.
Click here to find out more about  learning Spanish  >>

Tto get the most out of your time in Spain, why not check into one of the many lovely hotels in Barcelona.   The following is a selection of things to do in Barcelona.
Note: If your prefer, you can take the bus from Barcelona to Valencia. It takes approximately 4 hrs 30mins and costs about 27€ (at time of writing) and departs from both Sants and Nord bus stations in Barcelona.
---
Train Travel In Spain
Cheap Train Tickets To Spain ~ RENFE/AVE in Spain

Train travel in Spain is a great experience and often much cheaper than flying.  If you book  your tickets through spanish-rail.co.uk and you will find some great deals.
PROMOTIONS
For example, check out their promotions – there may be discounted tickets of up to 65 – 70% off the basic fares (subject to availability at the time of booking). This applies only to high-speed lines and long distance national trains (terms and conditions apply).
Golden Card 'Tarjeta Dorada' (5.15 Euro) entitles over 60s to 40 % discount for travel between Monday to Thursday and 25% off between Friday and Sunday on all trains. Note: The one-off payment for the Golden Card is valid for 12months.
If you don't speak much Spanish, always have a map of where you're going handy and a Spanish phrase book.  This helps if you get stuck and need to ask for directions.
---
Train Travel In Spain
High Speed Train From Valencia To Madrid
The  High Speed Train from Valencia to Madrid is the latest high speed AVE train from Valencia to Madrid takes just 1 hour 40minutes.
The train leaves from Joaquin Sorolla station in the center of Valencia (10 – 15 min walk from Estacion del Norte), or you can take the shuttle bus which is free if you show your ticket.
Traveling in Spain couldn't get any faster than with the AVE high speed trains which connect cities all over Spain.
Train Travel In Spain
Euromed / Arco / Alaris Trains
The following are the names of medium and slower trains which operate between Valencia and Barcelona and also Madrid.
Euromed – High speed train from Barcelona to Valencia – (3 hours –  leaves from Joaquin Sorolla station)
Arco – trains to Barcelona stopping at all the main stations along the Mediterranean coast.
Alaris – The Alaris is a high speed train between Madrid and Valencia which takes 3 hours 30 mins.
Train travel in Spain is excellent for those who don't particularly like flying and also a great way to enjoy a trip through Europe.
---
Where To Stay ?

Valencia Town Center  / Old Town Accommodation
Turia Gardens
City of Arts & Sciences
You can find many hotels, apartments and villas in the surrounding areas by using this link to Booking.com.