Valencia Trains

Getting Around ~ Valencia Trains
Valencia has two train terminals, Estación del Cabañal (Cabanyal Station) and Estaciòn del Norte (North Station).
Estación del Cabañal is at the top of  Avenida Blasco Ibáñez,  not far from the beach and port of Valencia (See districts of Valencia).
---
Valencia Trains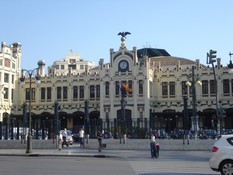 The main train station in Valencia is Estaciòn del Norte, which is located right  in the center of the city next to the bullring.
The building is a masterpiece of modernist architecture, covered with ceramics and edged with oranges, lemons and other fruits.
The fruits typify the importance of agriculture to this very fertile region of Spain – La Huerta – The Garden of Spain.
The new AVE train station Joaquin Sorolla,  links Valencia with Madrid and Cuenca, it  also connects with high speed trains to Alicante, Albacete and Barcelona.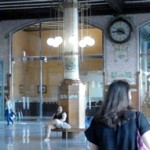 Estaciòn del Norte (North Station)
Address : c/ Játiva, 24 (Next to Bullring)
Tel: 902 24 02 02
www.renfe.es
Valencia Trains

The RENFE express trains leave from Estaciòn del Norte and will have you in Madrid in three and a half hours,  and in  Barcelona in three hours.
The new AVE train goes  from Valencia to Alicante and the RENFE train goes to Gandia.  It takes about 50 minutes and runs approximately every half hour.  From Gandia you can reach many destinations,  such as Alicante and Burriana.
---
Valencia Trains  from Joaquín Sorolla Station
Trains leaving from Joaquín Sorolla Station include the AVE Train from Valencia to Madrid which takes 90mins.
The AVE (Alta Velocidad Espanola) to Madrid travels at around 300 kilometers an hour  ~  (see High Speed Train from Valencia to  Madrid).
With 17 daily departures and an approximate journey time of 1 hour 30 minutes daily departures run between 7.10 am and 9.40 pm.
Tickets for the new high-speed train can be purchased at supersaver estrella rates starting at €31.60 for economy class and up to €143.70 for first class.
The station is well connected by shuttle bus to Estación del Norte in the center of town and is also connected by metro to the port and Valencia airport and the city center via bus. Check information on train schedules and ticket prices: Red Nacional de Ferrocarriles
---
Getting to Joaquín Sorolla Station (AVE)  
Shuttle Bus, Metro and Bus

Shuttle Bus: To travel on the shuttle bus for free from Estación del Norte just present your ticket.

Metro: Joaquín Sorolla Station (Green Line, L5 – Yellow Line, L1 and Red Line, L3)
Bus: Lines 9, 10, 27 (bus stop in San Vicente Mártir) and lines 89 and 90 (bus stop in Av. Giorgeta).
---
Valencia Trains to Barcelona and Madrid
The following are the names of medium and slower trains which operate between Valencia and Barcelona and also Madrid.
Euromed – High speed train from Barcelona to Valencia – (3 hours –  leaves from Joaquin Sorolla station)
Arco – trains to Barcelona stopping at all the main stations along the Mediterranean coast.
Alaris – The Alaris is a high speed train between Madrid and Valencia which takes 3 hours 30 mins.
---
Valencia Trains to Barcelona, Madrid & Surrounding Areas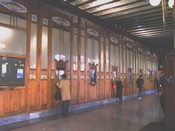 Getting To  Valencia  By Train?
For those traveling from the UK and France to Valencia,  there is now an even quicker and more comfortable way to get here.
The TGV Duplex double-decker high-speed trains run from Paris Gare de Lyon to Figueres, Girona and Barcelona (See Train Travel In Spain).
---
Valencia Bus Station
Valencia's main bus station is at Avendia Menendez Pidal, 13 – (see Valencia Buses) which is some distance from Estacion del Norte.  From here it's just a few minutes walk to the Nuevo Shopping Center and 3 star Expo Hotel.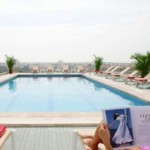 The Expo Hotel is also just a few minutes walk from the Turia Metro Stop, and a 15-minute walk  to  Valencia's Old Town (ask at reception for details on getting there).
The rooftop terrace has a seasonal swimming pool offering panoramic views of Valencia.  Outside the bus station are many local buses and taxi ranks.
You can download a map of the metro and then plan your journey on their website.