Valencia Town Center, Spain …
Valencia Town Center …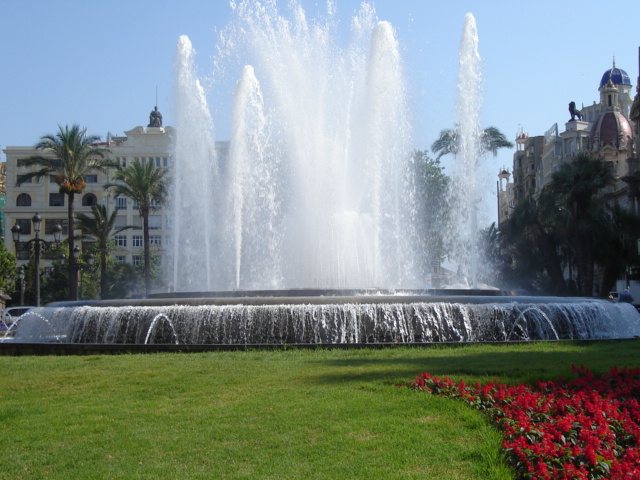 … in the beautiful city of Valencia!
At the heart of Valencia town center is Plaza del Ayuntamiento (Town Hall Square).
This is the most important square in the city and the location of  many  festivals and events throughout the year including the internationally famous  Las Fallas .
This lovely square is just a stone's throw away from  Estaciòn del Norte  (Valencia Nord) the main train station,  next to the bullring (opposite the station is Xativa metro station).
The area is surrounded by  shops, restaurants, theatres,  art galleries and museums. Not far away is the old historical town and Calle Colón  which is great for shopping.
Valencia Town Center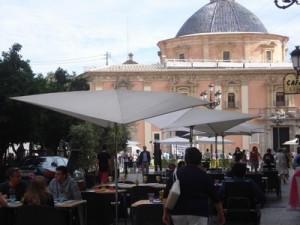 From here it  takes  approximately ten minutes to walk to Plaza de la Reina  and Plaza de la Virgin and the medieval Cathedral and Basilica of the Virgin de los Desamparados are located.
The  Seu-Xerea barrrio (Cathedral neighborhood), is only a few square miles,  so very easy to explore on foot. Just off the Plaza de la Virgin is  the trendy and fashionable  Barrio del Carmen.
Mercado Central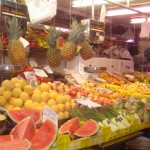 The stunning central market (Mercado Central)  is in the center of the old town and well worth a visit.
Overflowing with the freshest of fruits, veggies and salads and other produce, this is the place to stock up with food and there are many tapas bars and restaurants in the area.
---
Valencia Town Center ~ Bullring & Estaction del Norte (Valencia Nord)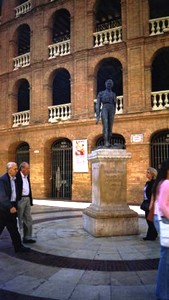 Plaça de Bous/Plaza de Toros – Xàtiva
Tel: 963 519 315
Valencia has a very large bull ring on C/Xàtiva which has four levels containing twenty four rows in the stands. In a street nearby is a museum dedicated to bullfighting memorabilia.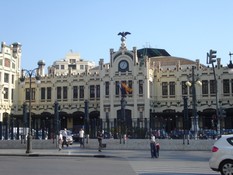 Next to the bullring is Estaciòn del Norte (North Station) and opposite is Xàtiva metro station.
This beautiful modernist main line train station is in the center of Valencia.
Covered with ceramics and fruit and edged with oranges, lemons and a variety of fruit, the building is a celebration of this very fertile region of Spain.
---
Valencia Town Center ~ Plaza del Ayuntamiento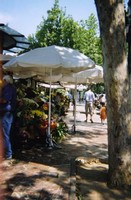 In Plaza del Ayuntamiento there are rows of shops selling flowers and parks and gardens are full of flowers.
Thousands of flowers are used in the many festivals and the popular  Turia Gardens is full of flowers, fountains, ponds, sports facilities, concert halls and much more.
---
Valencia Town Center Post Office
23, Plaza de Ayuntamiento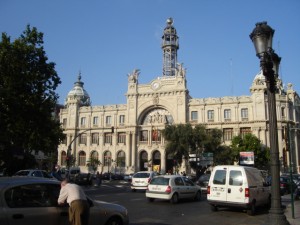 Buying stamps is normally a hassle but not so in Valencia.
The Post Office is not just any old post office but an amazingly beautiful stone building in the center of town.
Flanked by Ionic columns and topped with a magnificent dome a definite must to visit when visiting Valencia.
---
Valencia Town Center ~  Tourism Information Offices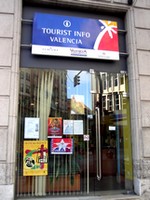 Plaça de l'Ajumtamen/Plaza del Ayuntamiento
Tel: 963 510 417
Monday-Friday: Morning 08.30-14.15 – Afternoon 16.30-18.15
Well worth visiting! They have lots of maps including a streetmap and many useful leaflets on the latest events.
Valencia Town Center
There are many things to do in Valencia and transport is good. It's no problem getting around in town or to the surrounding areas of Valencia.
This is the best place to stay if you want everything on your doorstep.
---
Where To Stay in Valencia Town Center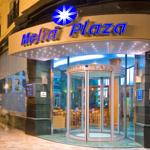 There are many bars, restaurants, nightlife and lovely hotels.
The Melia Plaza Hotel is in a great location overlooking Plaza del Ayuntamiento and just a few minutes walk from Estacion del Norte and Xativa station where the metro arrives from the airport.
Features include  a summer terrace and a restaurant serving Mediterranean cuisine and rice dishes.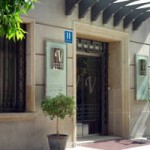 The  Vincci Lys Hotel is located in a pedestrianized area in the old part of town,  just a few minutes walk from  Plaza del Ayuntamiento and 300 meters from Estacion del Norte.
Features include free WiFi in all areas and a buffet breakfast is served daily and the hotel offers room service.   Xàtiva Metro Station is a 5 minute walk from the hotel and offers direct services to Valencia Airport.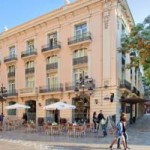 The 3 star  SH Ingles Boutique Hotel is located in an 18th-century palace in the center of Valencia just 150 meters from the Cathedral of Valencia which is in Plaza de la Reina and Plaza de la Virgin.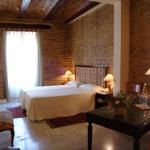 The 3 star  Ad Hoc Monumental Hotel is a boutique hotel located in a 19th-century building in the historic center of the old town.  Includes Free WiFi and breakfast made with local produce.
More Old Town Accommodation >>