Valencia Beach ~ Playa de Las Arenas
Valencia beach is just a fifteen minute tram ride from the center of town in Valencia.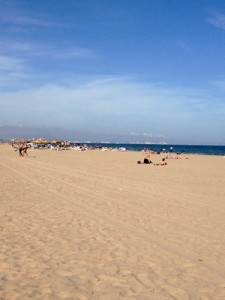 In the late nineteenth and early 20th century Playa de las Arenas was famous for the beautiful Resort of Las Arenas which is no longer there.
Although the official name of the beach is Playa de Levante (also known as Playa de Cabanyal because of the nearby district of Cabanyal),  Valencia beach is still locally known as Playa de las Arenas.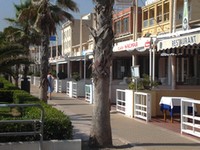 The promenade (Paseo Marítimo) runs alongside Las Arenas beach and is lined with sought after restaurants and bars, some with hotels above.
The restaurants are very well established and offer mouth watering dishes which many have enjoyed including Hemmingway and Orson Wells.
Note: You can also take the ferry to the island of  Ibiza which is just a short distance away.
---
Valencia Beach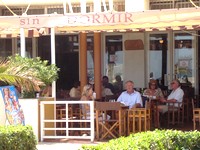 This the ideal location to enjoy a drink at one of the many bars or restaurants along the Paseo Marítimo.
The luxury 5 star Balneario de las Arenas Hotel and Spa have a  seafront location with direct access to Las Arenas Beach.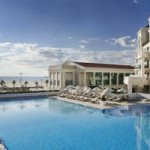 The previous resort of Las Arenas, was in the style of a Greek temple and the meeting place for the Valencian middle classes.
Valencian artist Joaquin Sorolla and Vicente Blasco Ibáñez (1867 – 1928) were often here and Blasco Ibáñez's  had a house close to Las Arenas resort which has since been converted into a museum –  Address :  Casa Museu Blasco Ibáñez, Calle Isabel de Villen 1.
The author also has an avenue named after him. Avenida Blasco Ibáñez,  stretches from near the Exposicion district to the old maritime fishing district of Cabanyal ~  (see Valencia Districts).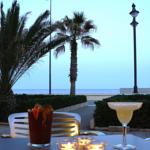 The Neptuno and other beach-side hotels are close to the F1 track  where the annual Grand Prix used to be held in June.
The port is within walking distance of the beach and promenade of Las Arenas.
This is where the famous America's Cup was held and where cruise ships dock and ferries arrive from the Balearic Islands.
Getting to Valencia Beach from the Town Center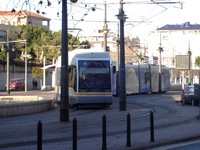 Take the number 19 bus from Plaza del Ayuntamiento to Calle Doctor Lluch station.
If you take the bus it may take a little longer from Plaza del Ayuntamiento if the traffic is heavy.
You can also take the tram from Pont de Fusta to Calle Doctor Lluch station. It takes about 15-20mins.
Where To Stay ?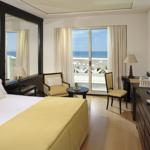 The Balneario de las Arenas Hotel has a seafront location with direct access to Valencia's Las Arenas Beach.
With 2 seasonal outdoor pools, a luxurious spa,  a Fitness Center with Gym and free WiFi throughout the hotel.  Rooms include free Wi-Fi and a 32-inch flat-screen TV.
*****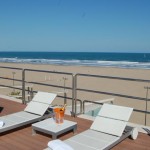 The Hotel Neptuno is ideally located directly facing the beach with direct access to the beach. Features includes a small spa, a gym and roof terrace, beachside bar and  terrace.
The restaurant  serves a variety of traditional rice dishes and fresh seafood.  Rooms are air-conditioned,  with plasma-screen TV, a free computer with internet access and sea or marina views.
*****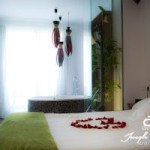 Gabbana Beach Hotel  features a restaurant and cocktail bar overlooking the beach.  Rooms come with free Wi-Fi, a TV and bathroom and some offer a terrace, sea or garden views and spa bath or shower.
Breakfast is served daily and the Gabanna restaurant offers a fusion of modern international and Spanish cuisine. The hotel also has a pub which closes at 03:00.
More Valencia Hotels by the Beach  >>