Guide to Restaurants in Valencia …
There are so many restaurants in Valencia ranging from the most expensive to cheap and cheerful tapas bars .    We have a page on some of the best resturants in Valencia where you can enjoy  traditional Spanish food at one of the many open-air terraces in Barrio del Carmen in the old town or by the beach.
Restaurants in Valencia Old Town
Finnegan's
Plaza de la Reina, 19
Tel: (+34) 96 391 0503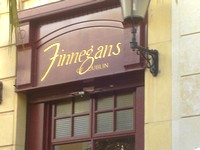 Finnigan's is a very cozy Irish pub situated in the Plaza de la Reina. It offers a variety of drinks which of course include the famous Guinness and other Irish beers.
This is an excellent place to wine and dine and one of the best cheap Valencia restaurants.
---
Vintara
Plaza de la Reina, 19
Tel: (+34) 96 392 4185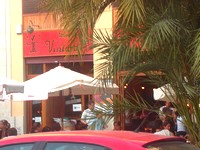 Vintara's has the best of both worlds. It's in a great location and has a terrific atmosphere and good menu.
The tapas bar is at the front of the restaurant and at the back is a very cosy candle-lit restaurant. We enjoyed a tasty paella one lunch time whilst watching a very young Nadal playing tennis.
---
Restaurants in Valencia ~ La Pappardella
C/ Bordadores, 5
Tel: +34 96 391 8915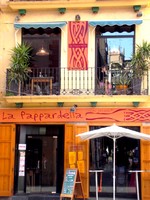 This lovely Italian restaurant is situated in the Old Quarter of Valencia close to the Cathedral.
Set over two floors with an upstairs terrace the restaurants offers an excellent selection of Italian dishes in a warm and cosy atmosphere.
Lunch time menu is very good and it won't break the bank!
---
Restaurants in Valencia ~ Foster's Hollywood 
Plaza del Ayuntamiento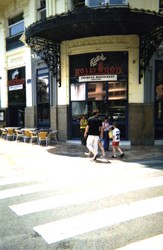 This is a modern cafe/bar in the center of Valencia situated on two floors, overlooking Plaza del Ayuntamiento.
With an assortment of sandwiches, salads and burgers so great for snacks at any time of the day.
There is also a  good set menu.
---
Restaurants in Valencia ~ Los Toneles
Ribera 17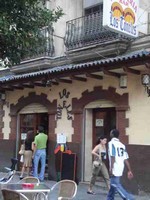 Los Toneles is one of the most popular Valencia restaurants which has been going strong for around 60 years.
Directly opposite the bull ring with fast service and just a stones throw away from Estacion del Norte.
We came here by chance and are so glad we did.  It was bucketing down with rain, so we stopped for a drink and ended up having dinner. Locals love it and the calamari and beer are delicious.
Orient Express Noodle Bar

Calle Roteras, 12 (Next to Torres de Serranos)
The location is great as it's in the trendy area of Barrio del Carmen and was the first Noodle Bar in Valencia. Japanese and South Eastern Asian food at excellent prices –  open all day from midday to midnight.
---
Restaurants in Valencia ~ La Lola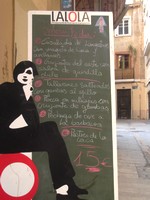 Calle Subida Toledà 8
Tel: +34 96 391 8045
La Lola is a restaurant situated in a tiny little passage, close to the Cathedral and just off Plaza de la Virgen.
If you feel like something a bit upmarket then this is the place to go. There's also a lunch time menu  and on some days flamenco – Reservations are required.
Restaurants in Valencia ~ L'hamadriadan
Plaza Vicence Ivorra 3 (parallel to Calle Quart)
Tel: +34 96 326 0891
The restaurant is in the center of the historic quarter in Barrio del Carmen. Serves grilled meats, lamb and traditional rice dishes for between €9-€17 for the three-course menu del dia. Other menus are from 22€, 26€,30€ and 40€
Civera Centro
C/ Mossén Femades, 10 , 46002 Valencia
Tel: +34 96 352 9764
Very popular fish and seafood restaurant serving great paella and also has a terrace which is great for those hot summer days and nights in Valencia – Approx 40 – 60 euros
---
Beach Restaurants in Valencia

La Pepica
Paseo Neptuno, 2 / Tel: +34 96 371 0366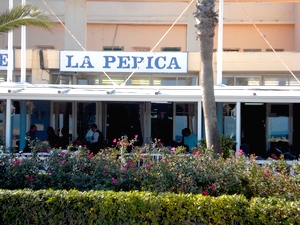 La Pepica is one of the best paella restaurants in Valencia.
When it was relatively unknown,  it was one of Hemingway's favorite places to eat .
With amazing food and views of the Mediterranean sea it's easy to understand why so many people enjoy it here.
La Lonja del Pescado Frito
(Next to the tram stop)
Calle Eugenia Vines, 243
Valencia 46011 (El Cabanyal)
Tel: +34 96 355 35 35
Very popular and affordable fish restaurant not far from the beach in Cabanyal with a good selection of fish and shellfish and paella.
La Marcelina
Paseo de Neptuno, 8
Tel: +34 96 371 20 25
Sol i Lluna
Calle del Mar, 29
Tel: +34 96 292 22 16
La Perla
Av. Neptuno, 24
Tel: +34 96 371 77 67
Valencia Town Center
Barrio del Carmen
Flamenco in Valencia
Valencia Food
Traditional Spanish Food