Discover Traditional Spanish Food

Traditional Spanish food includes paella and tapas which is eaten all over the world.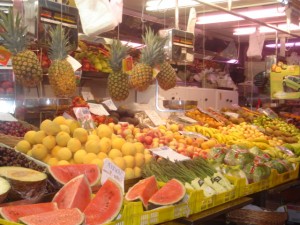 Spain is a Mediterranean country and enjoys an abundance of fruit, vegetables, herbs and fresh fish which form the basis of the Mediterranean diet.
Olives are a major source of income for most Mediterranean countries and olive oil is one of the most important ingredients in Spanish food.
Bread spread with oil, garlic and tomatoes is a very popular snack all over Spain  –  pan con tamate in Spanish means bread with tomatoes  (in Catalan it's pa amb tomaquet).

Spain has the most amazing array of fresh fruit, vegetables and herbs such as parsley, garlic and the famous saffron which is very expensive so many use pimiento instead.
Spain was occupied by the Moors for many years so the food of Spain also uses the various spices and herbs related to this type of cooking.
In most rural areas markets are overflowing with the freshest of vegetables and fruit and in cities such as Valencia, Madrid and Barcelona there are large covered markets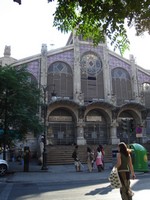 The city of Valencia is famous for the indoor Mercado Central (Central Market) and Barcelona for La Boqueria indoor market.
Both are excellent places to visit and stock up with food. They are also great places to eat.
---
Traditional Spanish Food
Breakfast (El Desayuno)
This is not usually a heavy meal and consists of toast, croissants, cakes and fresh coffee. Chocolate drink (hot or cold) is very popular for children and adults in Spain.  Everyone enjoys magdalena cakes for breakfast and merrienda (afternoon snack/tea).
Spain is famous for the huge variety of cheeses they have and a slice of Manchego cheese, with some crunchy bread and a few olives,  makes an excellent breakfast and a tasty meal.
---
 Traditional Spanish Food
Lunch – La Comida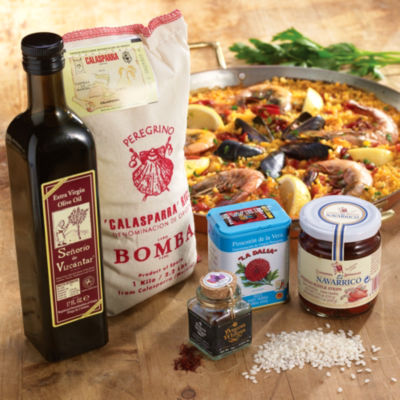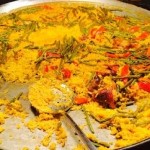 The Spanish are well know for their afternoon siesta and many still enjoy a large lunch followed by an afternoon nap.
The meal normally begins with soup and bread followed by a meat or fish dish with plenty of fresh salad.
On Sundays the family usually eat together and paella is a often eaten for lunch,  never for dinner.
Spanish desserts normally consist of a variety of fruits or the quintessential flan (creme caramel).
Many shops and offices in cities have stopped having a break for siesta so people take their lunch break at one of the local tapas bars.
During the hot summer months the best way to cool down and satisfy your appetite is with a bowl of gazpacho soup which is healthy and nutritious.
---
Traditional Spanish Food
Tortilla (Spanish Omelet), Tapas & Paella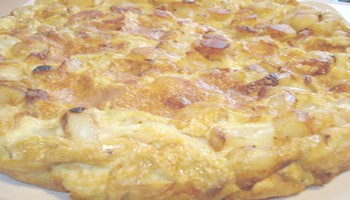 Tapas and paella, Spanish omelet or bocadillas (crusty bread filled with cheese, serrano ham and other tasty fillings) are on the menu.
Sunday is the best day for eating traditional Spanish food. The entire family joins in,  and if the weather is good, which it usually is,  paella  is cooked in the garden and eaten al fresco.
---
Traditional Spanish Food
Merrienda (Afternoon Tea/Snack)
Merrienda occurs between lunch and dinner and usually comprises of slices of crunchy bread covered with thick chocolate (sometimes magdelanas) washed down with a cold milk or  chocolate drink.
This is the snack all Spanish children enjoy after school. Many adults also enjoy this afternoon snack with any of the above or chocolate and churros (similar to doughnuts) at a local cafe.
---
Traditional Spanish Food
Dinner – La Cenar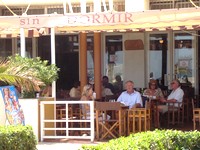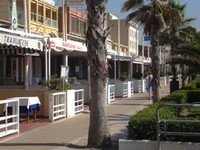 Spanish peoplelike to have a large lunch, so la cenar (dinner)  is often very light meal and eaten quite late in the evenin.
Many go to their local tapas bars and enjoy a variety of tapas and salad washed down with beer or wine.  Eating out in Spain is always a wonderful experience as there are so many lovely restaurants to choose from.
Most restaurants in Spain don't really get busy until 8.00-9.00pm and some very much later.  In Valencia, there are many restaurants and tapas bars along the marina, next to the lovely beaches  and also in the town center and  Old Quarter.