Travel by Bus in Valencia
One of the most enjoyable ways of getting around the lovely city of Valencia is with Valencia buses.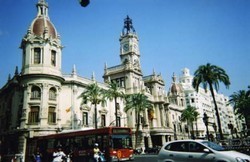 The main bus station
(Estación de Autobuses) in Valencia is at Avenida Menéndez Pidal, 13 (46009)
which is just around the corner from the
Expo Hotel
  and the new shopping center.
From the station there are 12 bus companies going to all major cities in Spain and Europe. The bus station is about a 10 – 15 minute walk from Barrio del Carmen. You can also take buses outside the station.
Just a few minutes from the bus station is the TURIA metro station which is on LINEA 1.
For more information check out Valencia Metro page where you can download the a map of the metro.
---
EMT Buses
The red Valencia city EMT (Empresa Municipal de Transportes) buses have 91 lines by day and 7 by night. EMT goes within the city of Valencia.
More details on tickets and fares can be found on their website.
Address : EMT Office Pl. Correu Vell, 5 46001 – València Tlf: 96.315.85.15p
---
Line 150 to Valencia Airport
Line 150 runs between the airport and Valencia city centre and arrives at the Central Bus Station in Avda. Menéndez Pidal,  just around the corner from the Expo Hotel and the Nueva Shopping Center. The bus station is opposite the Turia Gardens and Turia Metro Station.
The journey takes approximately 45 minutes via Mislata, Quart de Poblet and Manises.
One-way ticket: €1.45
Over 65s: € 1
General large family: €1.15
Special large family: €0.70.
The airport is located in fare zone B and you can buy the ticket on the bus.
Tel: 961 500 082 / 963 160 707
More information : AENA City Buses
For more information on combined metro-and-bus passes to Valencia Travel Cards.
Click here for information on bus routes…
Metrobus Yellow Buses
Fernanbus takes you out of Valencia to the suburbs.
To find out where each line goes, just click on the link at the top of each bus route.
---
BUS to Alicante, Benidorm, Gandia etc. from Valencia Airport
The Spanish bus service Alsa provides services linking airports with towns and cities across Spain.
From Valencia (Manises) airport the bus will take you to Alicante, Benidorm, Altea, Calpe, Javea, Gandia etc.
You can book a ticket online so no problems when you reach the airport – http://www.alsa.es/portal/site/Alsa
---
Valencia Beach Bus
To reach the nearby beaches of Pinedo and El Saler you can take the special YELLOW BEACH BUS from the center of town. At the time of writing the fare is 1.20€.
The bus has been around since 1926 when it was known as shady THE EXPRESS – now it's affectionately known just as 'the shady' – Autocares Herca website
The Tourist Offices in the center of town have many leaflets and maps and will give you an accurate timetable – (journey takes approximately 25-30mins).
The bus stops in Valencia between Valencia mainline train station (Estacion del Nord)and the Bullring in Calle Alicante and at the following stops:
Gran Via Germanias X Calle Sueca
C/ Alcalde Reig X C/ Luis Oliag
Near the entrance to El Saler Shopping Centre
---