Calpe ~ Costa Blanca ~ Valencia

Calpe is in the province of Alicante in the Valencia region of Spain, it's a very popular holiday destination with plenty of shops, restaurants and bars.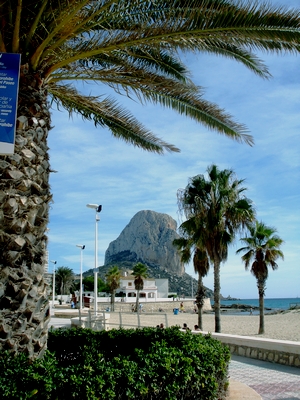 The Penon de lfach (also known as the Northern Rock) towers over the resort and separates Playa la Fossa and Playa Cantal Roig.
The town is situated between Altea and Javea with two main blue flag beaches.
It  can be reached by car along the the N332 coastal road which is a very pretty route.
If you prefer the slightly faster AP-7 highway route it includes a toll charge of  3.50 euro at time of writing.
To get to Valencia you take the bus to Gandia and the train from there to the center of Valencia.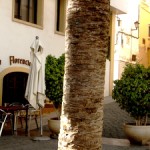 Although popular with tourists from northern Europe this is a very Spanish town.
Perched on a hill overlooking the town is the old town which is a must to visit.
One of the most popular festivals is the Moors and Christians festival which is held during October and celebrated for a week.
The mountain ranges protect the town from the cold winds so the climate is excellent throughout the year and the reason many people buy property in this area of Spain.
 Calpe Beaches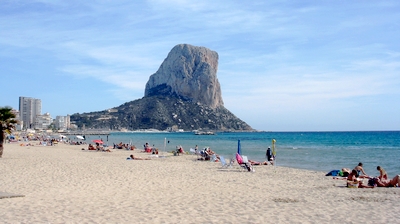 Take a walk along the promenade (Paseo Infanta Cristina) and you will find many restaurants and cafes.
You can enjoy a meal or drink overlooking the Playa la Fossa which is a lovely sandy beach.
On the other side of the rock is Playa Cantal Roig which has a lovely marina and a very narrow rocky beach. The promenade (Paseo Infanta Elena) runs from here to Playa Arenal-Bol and into the lovely old town.
Tourist Office
Avenida Ejercitos Espanoles
Tel. 965 83 69 20
Where to Stay in Calpe ?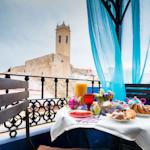 The 3 star Terra de Mar hotel is located in the old town, less than 600 meters from El Arenal Beach with free Wi-Fi, TV and private balcony.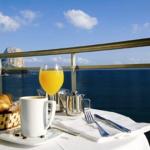 The Bahia Calpe is a very modern 4 star hotel on the sea front close to all the shops, bars and restaurants.
---
Getting To Calpe

Valencia Airport
Alicante Airport
El Trenet (Tramvia – Tram)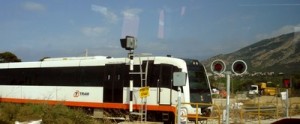 The tram – FGV  ( Ferrocarril de la Generalitat Valenciana) is a narrow-gauge railway which connects Alicante with Denia.
This is a very enjoyable and affordable way to travel around the Costa Blanca. The tram stops at most of the resorts so it's a great way to visit them if you don't want to drive.
Ferries to Spain / Valencia Hotels
Valencia City
Alicante ~ Denia ~  Benidorm ~  Calpe ~  Javea