Denia Spain

Denia is a small fishing village with a working harbor, a new marina and a narrow railway line running along the coast to Alicante .  The 12 kilometers of beautiful coastline are divided in two parts – Les Marines and Les Rotes.
In the heart of the town is the tree lined Avenida del Marques de Campo overflowing with restaurants, cafes and shops.  Denia is famous for it's prawns (las gambas),  rice and fish dishes such as arroz a banda and paella.  Not far from the Town Hall (Ayuntamiento) is the lovely Iglesia de la Asuncion and Castle.
---
Ferry to the Balearic Islands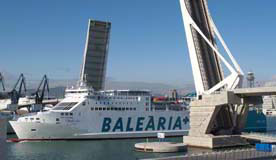 The town also has a lovely port where you can easily take the ferry to the nearby Balearic Island of Ibiza.
There are regular ferries run by various companies and the fast boats only take 2 hours.
A single day ticket can be £50 and there are many deals online. A day return ticket for a foot passenger at the time of writing costs only £47 with a journey time of 3 hours and 30mins.
Ibiza is popular place to visit and you can also take a trip to Majorca which is a little further away.
Book Your Ferry  to Ibiza, Palma, San Antonio …

Find the latest prices and sailing times by using the booking form below.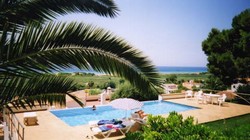 The Balearic Islands are just off the coast of the Valencia region of Spain and Ibiza is not far away.
This lovely Spanish town is set against a backdrop of the Montgo Mountains.
It boasts a castle and many other exciting places to visit and is half-way between Valencia and Alicante.  There are a selection of  sandy beaches,  sports facilities, tapas bars, cafés and good nightlife.
You can take a day-trip by ferry to the island of Ibiza or visit the nearby exciting resorts of Alicante and Benidorm.
Valencia Ferry to Ibiza and the Balearic Islands >>
Valencia Ferry Services
---
Where to Stay in Denia?
There are many excellent places to stay to suit all budgets.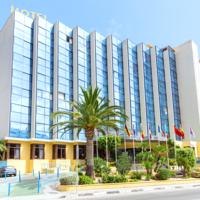 Hotel Port Denia is just 50 yards from Denia's La Marineta Beach and 2 minutes walk from the beach.  Outdoor pools  and  spa featuring a heated indoor pool, sauna and gym.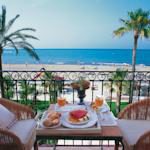 The family-run Hotel los Angeles is in a great location on the beach.
Stunning views and large terraces overlooking the Mediterranean Sea.
---
Festivals in Denia
A similar and smaller version of Valencia's Las Fallas is held during the month of March and during the summer there are the festivals of Moors and Christians (Moros y Cristianos).
Getting Here

As there are no direct trains from Valencia you take the train to Gandia (55 minutes) and then a bus from there. You can also take the bus which will take 1hr 30mins.
El Trenet (Tramvia – Tram)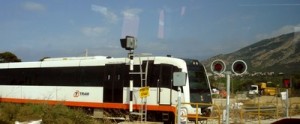 The narrow-gauge railway  runs between Alicante and Denia and takes approximately 3 hours.
To find out more about times and prices  check out the Tram Website
The bus from Valencia Bus Station  takes about 1hr 30mins.
Address:  Estación de Autobuses
Avenida Menéndez Pidal, 13 (46009)
Ferries to Spain / Valencia Hotels
Valencia City
Alicante ~ Denia ~  Benidorm ~  Calpe ~  Javea