The City of Arts and Sciences Valencia
City of Arts and Sciences is an amazing complex, designed by Valencian architect, engineer and sculptor, Santiago Calatrava. Famous the world over for his many other  stunning buildings, this is definitely not to be missed!

City of Arts and Sciences
L'Hemisferic (The 'Eye')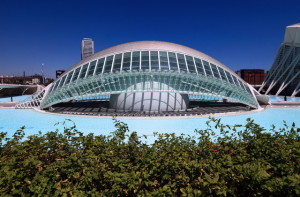 This is one of the most awesome of the City of Arts and Sciences attractions.

It was opened to the public in 1998 and sits on a huge rectangular pond which consists of gallons and gallons of brilliant blue water.
The pupil of the eye contains an IMAX cinema, a planetarium (which offers a virtual journey into space) and Laserium. It all comes in four languages, six channel stereo and a 900 m2 concave screen.
---
City of Arts and Sciences
Valencia Aquarium ( L'Oceanografic )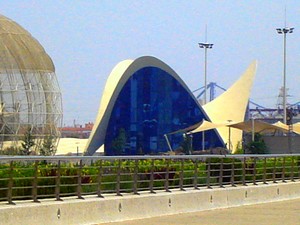 Valencia Aquarium at L'Oceanografic houses the largest aquarium of marine life in Europe and has six buildings.
And the restaurant Submarino De L'Oceanografic  has a horse-shoe shaped bar,  and surrounding the restaurant are underwater tanks with marine life .
Valencia City of Arts Full-Day Combined Tickets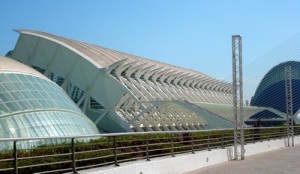 Explore Valencia's breathtaking City of Arts and Sciences with a combined full-day ticket to the Principe Felipe Science Museum, L' Oceanogràfic Sea Life Center and Hemisfèric, according to your preferences.
See state-of-the-art architecture and more in this amazing complex in the Turia Gardens.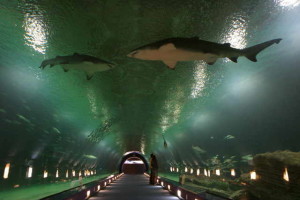 Touch and feel exhibits to learn scientific facts,  watch an eccentric scientist demonstrate the principles of electricity. Learn about climate change, biometrics and much more.
Visit the impressive Hemisferic building, and watch 3D animations.
Explore the world's aquatic ecosystems at L' Oceanogràfia and see sea lions, penguins, starfish.
---
City of Arts and Sciences
Paulau de les Arts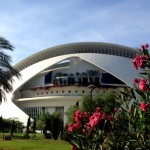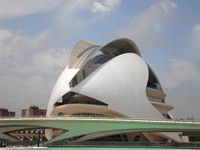 Palau de les Arts (Valencia's Opera House) has the most modern technology and includes open-air auditoriums for theater, opera and concerts.
---
City of Arts and Sciences
L'Umbracle (shaded walkway)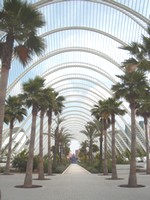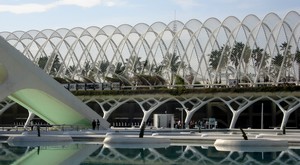 A  covered walkway where you can walk, relax and enjoy the sights.
You can see the sparkling Mediterranean sea from here and it's only a ten minute walk away. 
There is an underground car park below the walkway with room for over 800 cars. It also becomes a night club at the weekend.
---
City of Arts and Sciences
Agora Building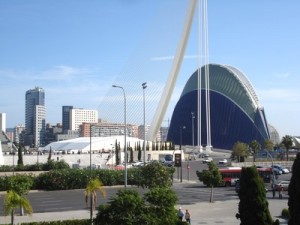 The Agora building is the latest addition to this stunning complex.
Throughout the year  many exciting events are held  such as the Valencia Fashion Week,  the Valencia Open 500 Tennis Tournament,  Christmas events  and lots more.
El Saler Shopping Center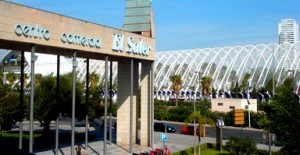 Conveniently located directly opposite the City of Arts & Sciences near  L'Umbracle and the Agora building.
There is a huge Carrefour supermarket plus lots of shops, bars, cafes and restaurants.
---
City of Arts and Sciences Sightseeing Train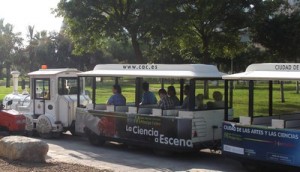 The train runs through the Turia Gardens, from the City of Arts and Sciences to the Museo Bellas Artes.
The cost is  5 euros return for a 30 minute ride in the gardrens.  Ideal for seeing the sites and getting a well earned rest from walking.
There are many lovely hotels nearby and you are also just a short bus ride away from the beach.
---
Valencia: City of Art and Sciences Sight Running Tour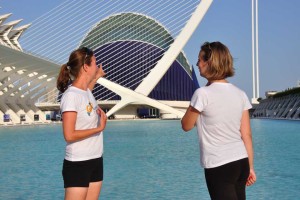 Enjoy a 1.5-hour jog in the stunning surroundings of Valencia's City of Arts and Sciences.
Marvel at Santiago Calatrava's futuristic monuments as you run along the Turia Gardens (old riverbed of the River Turia) and gasp in awe at sites such as the Hemisferique and Agora.
---
Where to Stay?
Hotels  Near the City of Arts & Sciences

Barceló Valencia Hotel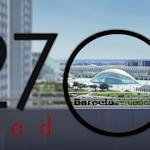 Just a few minutes walk from  the City of Arts and Sciences complex is the Barceló Valencia Hotel.  Features includes free WiFi in all areas, restaurant, bar, room service, restaurant (à la carte) and snack bar.
---
Hotel Alameda Plaza
The Hotel Alameda Plaza has a rooftop swimming pool, gym and bar with a plasma TV.  Located directly opposite the complex, the  hotel's restaurant serves Mediterranean cuisine with discounts for children.
---
Holiday Inn Express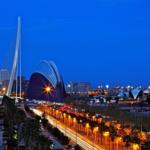 Holiday Inn Express, Ciudad Las Ciencias  is just a few minutes from the City of Arts and Sciences and Palau de la Musica. Nearby is El Saler shopping center full of restaurants, shops and a large supermarket. Features include free Wi-Fi, seasonal outdoor pool, Bar/Lounge, Business Center and restaurant.
---
More hotels near the City of Arts and Sciences  >>
---
Cheap Flights To Valencia / Valencia Travel / Valencia Accommodation