Valencia Tourist Card – VLC
24, 48, 72-Hour Valencia Tourist Card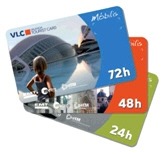 Enjoy free travel on public transport
Get great discounts in museums, shops, restaurants, and tours
Enjoy free entrance to public museums
The Valencia Tourist Card comes in 24, 48 or 72 hour formats and offers:
Free public transport around the city. Bus, Metro and Tram zones ABCD.


Including the journey Valencia-Airport-Valencia (L3, L5).

Free entry to Public Museums and Monuments.
Discounts of up to 50% on participating tourist and leisure services and
in shops and restaurants.
The Valencia Tourist Card is your key to the city with 24, 48, or 72 hours of excellent discounts, free travel, and entrance to museums. Eat in restaurants, shop, take a tour–and get great savings all at once! The card is easy and quick to use.
Get up to 50% in museums, leisure activities, shops, and restaurants for 24, 48, or 72 hours.
The free public urban transport is within Valencia city, zone AB, including the traject Valencia-Airport-Valencia (L3, L5).
The establishments that offer discounts on presentation of the Valencia Tourist Card are identified with a sticker.
Validate Your Card
The card is validated when it is used for the first time on public transport, or with a dated stamp that can be applied at the sales points. If validation is not possible, it can be validated at a point of use by filling in the expiry date in ink.
Identity cards or passports must be shown for children in order to give them the City Card.
Please Note :   You can change the currency displayed by using the drop-down menu at the bottom of the page in the lower left-hand corner of the GetYourGuide website.
Valencia Travel Cards
Valencia Travel
Valencia Accommodation