Valencia FC ~ Valencia Club de Fútbol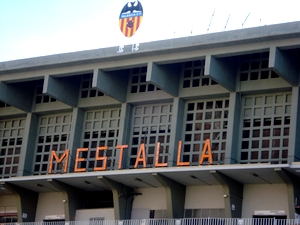 Valencia FC is the third top Spanish football team behind Real Madrid and FC Barcelona who are top of the league.
History of Valencia FC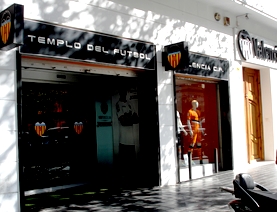 Mestalla stadium opened on 20 May 1923 and is still home to Valencia Football Club.
The stadium is located at the end of Calle Micer Masco (Carrer Misser Masco),  and  easy to reach from the Calatrava/Exposicion bridge which crosses the Turia Gardens from the old town.
On 17 February 1929, Valencia Club de Fútbol (known as los Che) played in the Spanish Football league at Mestalla stadium in the center of Valencia.
David Villa Sánchez (nicknamed El Guaje) joined los Che (nickname of the team) in June 2005 for a transfer fee of €12 million.  From 2005-2006 , David Villa was the second top scorer in La Liga with 25 goals. He is also third top scorer of all time in Spanish Football.  In May 2010, David Villa transferred to Barcelona FC for a four-year deal for a fee of €40 million (£34.2 million).
Nou Mestalla stadium
Today everyone is hoping the move to the new 75,000-seater Nou Mestalla stadium will be soon.  The new stadium is located in the barrio of Benicalap (approximately three miles west of the center of Valencia). The move was predicted to be in May 2009 but this didn't happen and then it was predicted for the new season 2010/2011. Work was said to resume in 2012 but with the present economic climate it's difficult to say when it will be ready.
Unfortunately, Valencia FC appears to be in financial crisis and work on the new stadium has stopped. Nobody seems to know when the stadium will be finished. The exterior of the stadium consists of 22,500 overlapping aluminium elements which represent Valencia's districts and the river Turia.
Address Mestalla Stadium
Avda. de Suecia s/n
46010 Valencia
Tel: 963 601 710
Stadium Capacity: 55,000
Official VALENCIA FC Football Shops: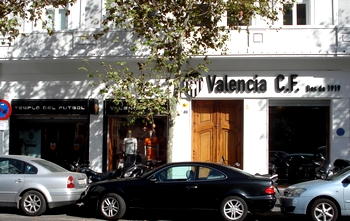 Templo del Futbol de Mestalla
(Opposite Mestalla Football Stadium)
Plaza Valencia Club Futbol 2, 46010 Valencia.
Tel: +34 96 389 13 21
Hours: 10:00 to 14:00 and 17:00 to 20:00 (Monday to Saturday)
Temple Football Pintor Sorolla
Address: Calle Pintor Sorolla, 25
46002 – Valencia
Tel: 96 351 47 42
Hours: 10:00 to 21:00 (Monday to Saturday)
Official VCF store El Corte Ingles
Address: El Corte Ingles Pintor Sorolla 5th floor (Sports)
46002 – Valencia
Tel: 96 315 95 00
Hours: 10:00 to 22:00
VCF store El Saler
Address: Autopista del Saler 16
(Ground Floor, B24)
46013 – Valencia
Tel: 96 381 52 73
Hours: 10:00 to 22:00 (Monday to Saturday)
VCF Store New Center
Address: Avenida Pio XII, Local 124.
46009 – Valencia
Tel: 96 346 75 88
Hours: 10:00 to 21:00 (Monday to Saturday)
---
Getting Here
If you're coming from Estación del Norte you can either take a taxi or the number 10 bus from Plaza del Ayuntamiento to Avenida Aragón. The football stadium is directly opposite the bus stop.
Where To Stay near Mestalla?
Sweet Hotel Renasa is just a 6 minute walk from the hotel, located next to Valencia University.  The hotel offers large, modern rooms and a restaurant offering a range of Valencian specialities and the hotel also offers packed lunches.  All rooms have air conditioning, laptop safe and satellite TV, as well as a seating area.  There is also a modern café offering tapas.
Rates and Reviews : Sweet Hotel Renasa
Apartamentos FV Flats Valencia – Mestalla II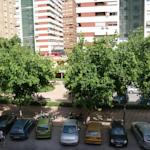 These modern 1 and 2 bedroom apartments are air-conditioned and located next to Mestalla Football Stadium.
Features include free Wi-Fi, bathroom, kitchen with fridge, microwave, oven and coffee maker.
Rates and Reviews : Apartamentos FV Flats Valencia – Mestalla II
---
FV Flats Valencia San Felipe Neri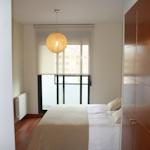 The apartments are in Plaza San Felipe Neri, 7 – Amistat metro station is 450 yards away.  These air-conditioned apartments have a balcony with city views, a living room with sofa.
Features include free Wi-Fi, flat-screen TV and DVD player, fully equipped kitchen. Bathrooms come with bath and shower and a hairdryer.
Rates and Reviews : Apartamentos FV Flats Valencia – San Felipe Neri
---
Dimar Hotel
The hotel is close to the Turia Gardens so great for that early morning job or walk to the City of Arts and Sciences or Old Quarter.
Features include large rooms and is in a great location next to the fashionable Cánovas Square.
Click here for more places to stay near Mestalla Stadium in Valencia  >>