Moraira ~ Teleuda, Costa Blanca, Spain

Moiraira  is just 95 kilometers from Alicante airport and 124 kilometers from Valencia airport.
A small upmarket coastal town with three beaches, a castle and a lively marina  which holds regattas such as the  Moraira Santa Eulalia at the end of September every year.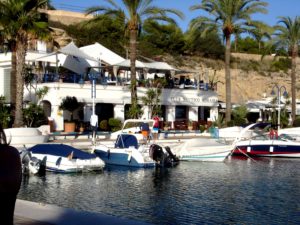 With a working port  and one of the most popular fish market s on the Costa Blanca, the area is also famous for the surrounding vineyards where the Moscatel grapes grow.
The wine festival – La Fiesta del Moscatel – is held every year during August in the Plaza de la Ermita de San Vicente Ferrer with music, dancing and tasting the Mistela wine – a fortified wine, similar to sherry and best served chilled.
Another popular festival held on the 15 April is The Teleuda Fiesta in honor of St Vicente Ferrer, patron saint of Teleuda where he was born. The city of Valencia also celebrates the festival of St Vicente Ferrer,  but on the second Easter Monday.  He is one of the city's patron saints, well loved and known for the many miracles he performed.
The festival of La Virgen de los Desamparados  and La Virgin Carmen  are held in July.  On the 16 July,  the statue of the Virgin is carried from the church then around the town and onto the sea, to be blessed. The festival lasts for ten days and includes parades, bands, dancing and bull running in the marina.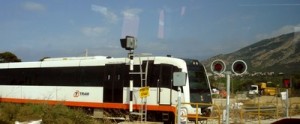 Moraira is also known as Moraira Teleuda. The town of Teleuda is inland and this is where the Costa Blanca coastal tram stops. The narrow-gauge railway,  El Trenet (Tramvia – Tram), runs from Denia to Alicante, stopping at all the resorts along the way.  To find out more, such as times and prices,  check out the Tram Website
Popular areas in Moraira include the upmarket Pla de Mar,  just a few minutes walk from town and El Portet,  with it's lovely beach about 1km away.  The coastal path links El Portet to the marina and town.
Local Villas & Hotels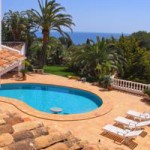 Costa Blanca Resorts to Visit …

To the north of Alicante airport are the popular resorts of Benidorm,  Altea, Javea, Calpe and Denia.
---
Plan Your Trip To The Costa Blanca!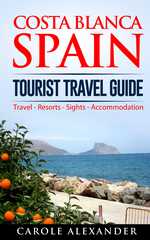 The book includes  information on the  best time to visit,  getting to the Costa Blanca,  getting around, where to stay and information on the many  resorts of this area of Spain. Festivals,  shopping  and various links to pages of interest on this website.
Chapter 3 contains a link to an interactive  map,  with links to Alicante and Valencia Airport, Denia and the island of Ibiza. You will need internet connection to access the map.
For Amazon UK / For Amazon.com
---