Essenital Valencia Tourist Information

Valencia Tourist Information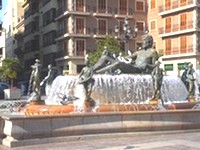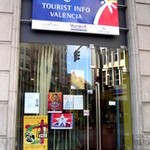 There are many ways of getting to Valencia and once you arrive you will find the transport is very good.
This interactive map of Valencia will help you find your way around and you can also see where the districts city are located.
Valencia Tourist Information ~ The best place to start sightseeing from is  Plaza del Ayuntamiento which is close to the train station and in the center of town, close to the Old Quarter which is easy to explore on foot.
TIP!  It's a good idea to learn some Spanish before you get here (See  best way to learn Spanish). Not only will you be able to converse with the local people but also enjoy everything so much more.
---
Valencia Tourism Offices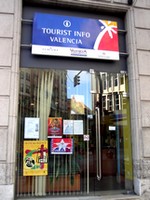 It's a good idea to find out where all the tourist offices are in Valencia. They offer a wealth of information on local events and can be very helpful in providing maps of the area.
Valencia tourist offices can be found at the airport, by the beach and in the center of the city.
---
Valencia Tourist Information for Transport in Valencia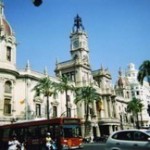 Valencia Central Bus Station is opposite the Turia Gardens and Turia Metro Stop and a few minutes walk from the Nuevo Shopping Center and Expo Hotel.
Many bus companies operate from this station to cities and towns in Spain and Europe.
Address : Estación de Autobuses
Avenida Menéndez Pidal, 13 (46009)
Tel: +34 963 466 266
Valencia Tourist Bus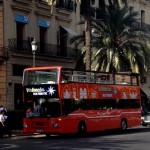 The tourist buses start from Plaza del la Reina and travel all over the city.
There are many stops to hop-on and hop-off along the way .
Urban Buses
Tel: +34 963 158 515
---
Valencia Manises Airport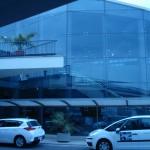 The airport in Valencis is only 8km from the center of town and very easy to reach by bus, metro and taxi.
Tel: +34 961 598 500
---
Valencia Metro
This is one of the quickest ways to get around the city.
It's also the quickest way to get from the airport to the center of town and surrounding areas.
Tel: +34 900 461 046
---
Valencia Trains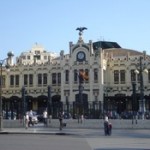 Estaciò del Nord (North Station) is the main line station situated next to the bullring in the center of Valencia.
This beautiful modernist creation is covered with ceramics and edged with oranges, lemons and other fruits which depict very well this very fertile region of Spain.
RENFE
Tel: +34 902 240 202
---
Valencia Tourist Information for Learning Spanish in Valencia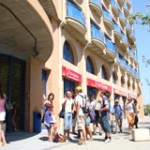 The Don Quijote  school is centrally located on the campus of the Polytechnic University of Valencia.
The school is in a lovely location close to a variety of sports facilities and within easy reach of the city center  and Valencia beach. There are several buses and you can easily travel to the beach in 5 minutes and Plaza Mayor in 15 minutes.
---
Shops in Valencia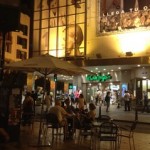 All the essential Valencia tourist information you need for shopping in Valencia ~ markets, department stores, opening times and where the best shops are located.
Essential Valencia Tourist Information

Phones in Spain  / Travel Insurance  / Health Care In Spain
Emergency Telephone Numbers
Tel: 112 – Ambulance, Fire, and Police
Local Police: Tel: 092
Guardia Civil: Tel: 062
Hospitals in Valencia
Hospital Clínico
Av Blasco Ibáñez 17
Tel: 963 862 600
Hospital Dr. Pesset
Av Gaspar Aguilar 90
Tel: 963 862 500
Hospital La Fe
Av de Campanar 21
Tel: 963 862 700
Regional Arnau de Vilanova
Calle Sant Climent 26
Tel: 963 868 576
Valencia Post Office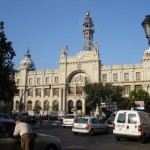 The Central Post Office is one of the most beautiful post offices I have ever seen.
Domed roof and stunning ceiling. Definitely worth visiting even if you don't need any stamps!
Address: 24 Plaza del Ayuntamiento
Open Mon-Friday 8.30am – 8.30pm/Sat 9.30am – 2.00pm
Tel: 96 310 27 30.
Spanish Banks
The majority of banks open Monday to Friday from 8.30 am – 2.30pm.
Some are open on Saturday mornings and should you need to go to the hole in the wall you'll find ATMs all over town.
---
Electricity
Standard voltage in Valencia is 220-240 V AC, 50 Hz. Adapters are available in hardware shops and department stores like El Corte Ingles.