Childrens Things to Do in Valencia
There are many childrens things to do in Valencia and playing on the sandy beaches must be one of the favorites.
Like all Spanish towns and cities there are a huge amount of festivals which everyone of all ages will  love.  One of the most exciting is Las Fallas held every year in March.
Childrens Things To Do In Valencia ~ Valencia Beaches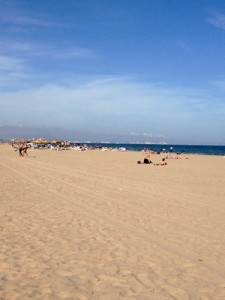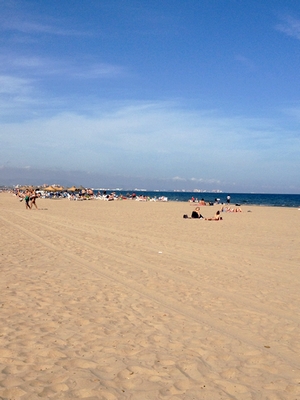 The city beaches of Playa de las Arenas and Playa Malvarrosa are only a 10 – 15 minute tram ride from the center of town.
The tram leaves from the metro station at Pont de Fusta  which is not far from Torres de Serranos in Barrio del Carmen.
The white sandy beaches are edged with palm trees and are perfect for children to build sandcastles on and there are many beach-side activities.
For younger children there are small playgrounds. For cyclists there are special lanes along the promenade which are ideal for roller-blading or riding a bike.
---
Childrens Things To Do In Valencia
Arts Galleries and Museums in Valencia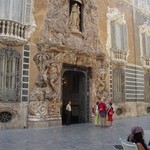 There are many museums and art galleries including the Fallas Museum where you can see the papier mache figures from the annual Las Fallas festival.
There's also a good choice of tours and something children will love is the huge array of gelaterias (ice cream parlours) and chocolaterias.
The Spanish love chocolate and so do kids. Chocolate and churros is thick hot chocolate with long doughnuts (churros)  – very yummy! The kids will love it and so will you.
There are gelaterias, chocolaterias and horchaterias all over town and some of the best are in Plaza de la Reina, Plaza de Santa Catalina and Plaza de la Virgen.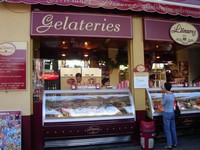 Although not very healthy, every child loves to feast their eyes on the huge variety of sweets available here.
Look out for the popular chain of sweet shops, Casa de los Caramelos (House of Sweets), where you can find all types of sweets and toys.
Note:  In Plaza de la Reina there are horse and carriages you can  hire for a journey around town.
---
Childrens Things To Do In Valencia
The City of Arts and Sciences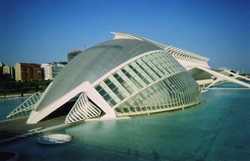 One of the most popular childrens things to do in Valencia is to visit the City of Arts and Sciences.
There's a high-tech science museum with interactive, hands-on gadgets.  An IMAX cinema, lazerium and planetarium with a range of child-friendly shows such as a virtual journey into space.   All this is available in four languages including English .
Valencia City of Arts Full-Day Combined Tickets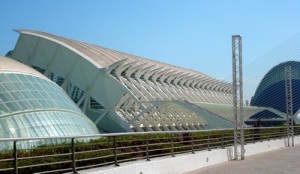 Explore Valencia's breathtaking City of Arts and Sciences with a combined full-day ticket to the Principe Felipe Science Museum, L' Oceanogràfic Sea Life Center and Hemisfèric, according to your preferences. See state-of-the-art architecture and more.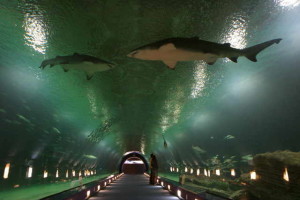 Touch and feel exhibits to learn scientific facts
Watch an eccentric scientist demonstrate the principles of electricity
Learn about climate change, biometrics and more
See the impressive Hemisferic building, and watch 3D animations
Explore the world's aquatic ecosystems at L' Oceanogràfic
See sea lions, penguins, starfish and more
City of Arts & Sciences ~ Read More  >>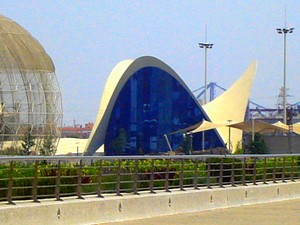 Visit the Aquarium
This is one of the top childrens things to do In Valencia and something everyone will enjoy. L'Oceanografic is the largest aquarium in Europe and the second largest in the world.
You get the distinct feeling of being underwater and will see sharks, whales and all kinds of marine life. On the ground level are the seals, sea lions and penguins.
---
Childrens Things To Do In Valencia
Barrio del Carmen ~ Old Town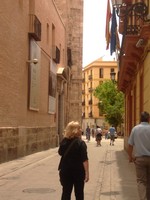 During the day Barrio del Carmen is a lovely place to enjoy a stroll around the beautiful historic sites, however, everything changes in the evening.
This is one of the most popular areas to come for tapas bars, restaurants and nightlife.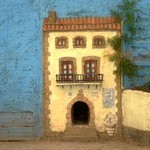 In the tiny cobbled streets of Calle Museo (Museum Street) is a very small little painted 'House of Cats' which kids will love.
Nearby is Cafe Museo with a lovely terrace under the trees which comes in handy when you're in need of refreshment and a rest.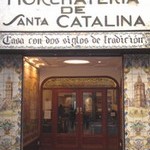 The area is also full of lovely kittens and cats like the one in the photo below.
Another popular place to go in this area is Horcharteria Santa Catalina where you can try the local health drink .  Horchata is a sweet milky drink served cold which most Valencians love.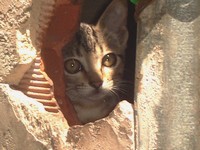 Traditional long iced buns called fartons are often served with this drink.  Kids usually  love  fartons, especially the name which causes much mirth amongst them and adults!  Horchata takes a bit of getting used to – you either love it or hate it (there's always thick Spanish hot chocolate if you prefer).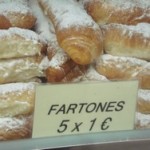 Horchata is made from tiger nuts in the town of  Alboraya. You can take a tour and see the fields where the tigernuts are grown.  Learn about the machinery used in producing it and sip a refreshing glass of this milky drink during your tour ~ Secrets of Horchata, Plantation Tour & Workshop >>
---
Childrens Things To Do In Valencia Old Town
A must to visit is Mercado Central which older children will love.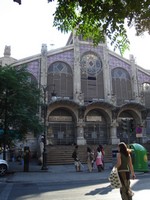 This is one of the largest markets in Europe and one of the most beautiful in Spain.
Inside and out are little tapas bars selling deliciously fresh food and stalls selling paella pans and a selection of earthenware.
There are mountains of fresh fruit, veg and many other tasty foods perfectly stacked on more than 1,000 stalls.
---
Childrens Things To Do In Valencia
Parks, Gardens & Open-Air Zoo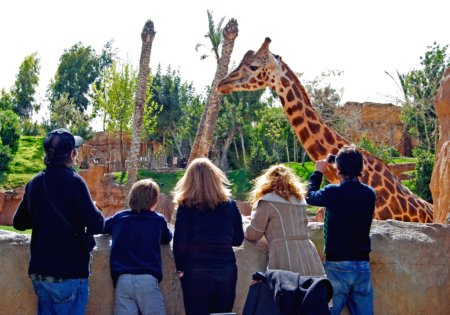 Many of the parks have great facilities for children.  The new open-air Bioparc Zoo is in Cabecera Park at the end of  the Turia Gardens.  It's open 7 days a week with free parking, two restaurants and a shop.
Bioparc Valencia Full-Day Entrance:The Heart of Africa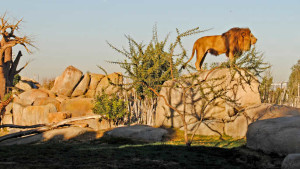 Welcome to a new concept of city zoo at Bioparc Valencia, built to spread the love and respect for nature while providing an enjoyable and relaxing experience for all ages.
Explore the heart of Africa without leaving Europe with a full-day entrance ticket to Bioparc Valencia. See lions, giraffe, lemurs, and hippopotamus in areas dedicated to the Equatorial Forest, Savannah, and more. Discover a new found love for nature.
Turia Gardens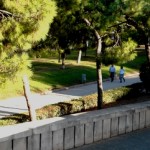 The Turia Gardens stretch the length of the city and end at the stunning City of Arts and Sciences.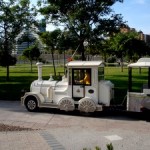 This very long and winding park is full of fountains, ponds, playgrounds, cafes and sports facilities.
You can go rollerblading, cycling on cycle lanes and there's also a small train to take you around the gardens from the City of Arts and Sciences.   You can also hire a small cycling carriage if you feel like exploring on your own.
Gulliver Park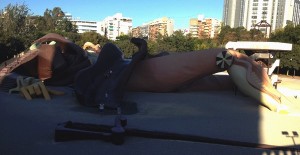 Younger children will love Gulliver Park –  an enormous sprawling figure of Gulliver which they can crawl over and have fun.
Another great park for kids is the beautiful Jardines del Real (Royal Gardens), popularly know as Jardines de Viveros where the summer film festivals and concerts are held.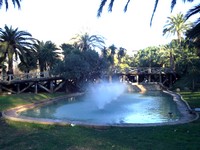 This is the largest and greenest park full of statues, fountains and flowers and the ideal place for a picnic.
Kids will especially enjoy the playgrounds and a ride on the small reindeer-shaped train.
The Museo de Ciences Naturales (Museum of Natural Sciences) is within the gardens and children will be fascinated by the museum's dinosaur skeletons and stuffed animals.
---
Childrens Things To Do In Valencia 
Days Trips
Take a ride on one of these very popular tourist buses and see the sites without getting tired.
Take day trips to the towns of El Puig and Sagunto or visit the famous Albufera which is only 12 km from the center of town.  This is where the famous rice paddies are located and you can even take a boat ride on the beautiful Albufera lagoon.
Childrens Things To Do In Valencia Region

Benidorm Theme Parks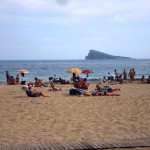 Benidorm is in the region of Valencia just a 1hr 45min journey  by bus from the central bus station in Valencia (see Valencia Transport).
The beaches are fantastic and there are lots of places to eat and have fun. The popular Theme Parks make a great day out for all the family especially for the kids and the young at heart.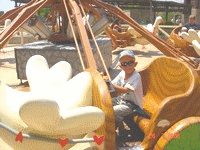 Or you can hire a car (or take the train)  to Oropesa del Mar/Marina D'or in the north of the region (just a forty minute drive from the city).
---
Where To Stay  in Valencia ?
Many of the hotels and apartments are located in the old town or close to the City of Arts and Sciences which is close to the Turia Gardens.  It really depends where you prefer to stay.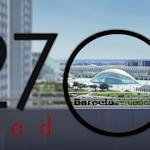 The Barceló Valencia Hotel is next to the City of Arts and Sciences and includes free WiFi in all areas, restaurant, bar, room service, restaurant (à la carte) and snack bar.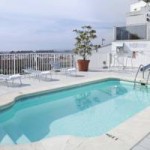 The Holiday Inn includes free Wi-Fi and there is a rooftop pool, bar and terrace.
The hotel's restaurant serves Mediterranean cuisine, and there are discounts for children.
Valencia Hotels near the Beach …
There are also many lovely hotels near the beaches and in the surrounding areas of Valencia.
Valencia Restaurants / Valencia Events / Valencia Town Center